If politics is about people, who are the people politicians are fighting to represent?
Tomorrow sent reporters from the Gaylord College of Journalism and Mass Communication1 in the US state of Oklahoma to find the people while polls were open for "Super Tuesday".
A total of 13 states and one territory held primaries on March 1 for the Democratic and Republican parties to choose their presidential candidates. As with We The People for the 2015 UK general election, we asked no political questions and did not confirm if citizens had voted in the primaries.
These are some of the people who make up America.
11.15am – John Teal (JT), in Norman, Oklahoma
JT lived an athletic life while growing up in Wichita Falls, Texas, before he moved to Norman. And that was when everything changed for him. 
From the time he was able to walk, he was involved in all different sports in Texas. His freshman year of high school, when he moved to Oklahoma, his athletic lifestyle took a turn for the worse until he found a direction in life he credits to a multi-national health and sports supplement firm, Herbalife.
"I just got involved with the wrong crowd, the people I was hanging out with," he said. "Something I learned in Herbalife, but it's really true now that I look back, is that you're a product of the five people you spend the most time with. The people I got involved with were not good in school, not making good decisions in their life. I just got involved with that crowd and finally my junior year I realised that I didn't want to be that. I wanted to get back into sports and get back into being more healthy."
The 20-year-old now spends his time working at a nutrition shop and as a fitness coach to help people reach their goals of living a healthier lifestyle.
"Currently my day is usually very, very simple. I work as a personal wellness coach, meaning that really all I do all day is I try and find and continue helping people looking to lose weight or simply get into the best health and shape of their life.
"Every morning I get up at 4am and I'm in the gym by 5am and I do my workout and after I leave the gym I come straight here to Nubody.2 I am pretty much here working all day, helping clients, working the nutrition club, making shakes and teas, networking with people, and really trying to continue to build my independent business of helping people with their health and their goals."
He thanks an old friend of his for introducing him to the supplements company in his sophomore year of college. JT ended up quitting his job and withdrew from school to work full-time for Herbalife. He said once he dedicated his life to them, he never looked back.
"Herbalife changed my entire life, it changed my way of thinking, it changed my actions throughout the day, it changed the way I interact with people and it has taught me so much about how to be a leader, how to be a better person, a better business owner, and it really just changed my entire moral and thought process."
12.34pm – Michelle Gates
Michelle Gates worked in the healthcare field for more than two decades before she decided to act on the desire to start her own business in the culinary industry.
"I just reached burnout, so I did a career change," said Michelle, who works at Hurts Donuts,3 in Norman.
Michelle worked in the radiology department for numerous hospitals, performing MRIs and CAT scans. She worked in the radiology business for 25 years before her work took a toll on her.
"Just the grind of it everyday," she said. "Not everybody makes it. It takes a toll on you when you see sick people everyday and people that are hurt everyday and people that die everyday. It just takes a toll on you. Sometimes, it's just time for a change."
After working for so many years she still recalls the life changing moments she witnessed.
"The first time you see a child die you realise how precious life is. And that death doesn't know an age," said Michelle.
When Michelle decided to make a career change she decided to pursue the idea of becoming a pastry chef. She turned her baking hobby into a "lifestyle". 
"It is just something I have always done on the side," she added.
Michelle is now pursuing a career in the culinary industry but is also working at the donut shop to pay the bills.
12.56pm – Tobin Vigil
Before Tobin Vigil can even remember, he has always had an interest in bicycles. Now at 42 years old he owns Buchanan Bicycles4 and has competed in competitions cycling between 50 and 100 miles in a single day. But all of his personal accomplishments aren't the ones that fulfil him the most – it is other people's accomplishments.
"I've seen it change a lot of peoples lives," he said. "Actually a good friend of mine, who is a doctor, when he first came in here he was like 300 pounds. And now he is triathlete, ultra-marathon runner, and just a completely different person. It was really awesome to watch that transformation.
"For him, to completely change his lifestyle and he's happier and healthier. We've done that over and over and over we have watched that happen many times over, and it's really, really cool." 
2.05pm – Brooke Charbonneau
Brooke Charbonneau graduated in December with a degree in environmental studies and is holding down two jobs as well being an independent contractor for the university and applying to posts with state governments.
The 22-year-old in Norman said she enjoys selling stationary and postcards – sometimes a lost art.
"There's a lot of regulars that come in that are pretty extraordinary people," she said.
"I think I prefer writing letters to people rather than texting them – I think it's putting in extra time. Like texting takes two seconds but writing a letter and thinking about what you're going to write takes a lot more time.
"Talking to people face to face or writing letters, for me, I think I would prefer that to a two-second email."
She added: "I mean, honestly it's really hard to pick a favourite card just because I think all of them are pretty funny and they are very individualised and very stylistic."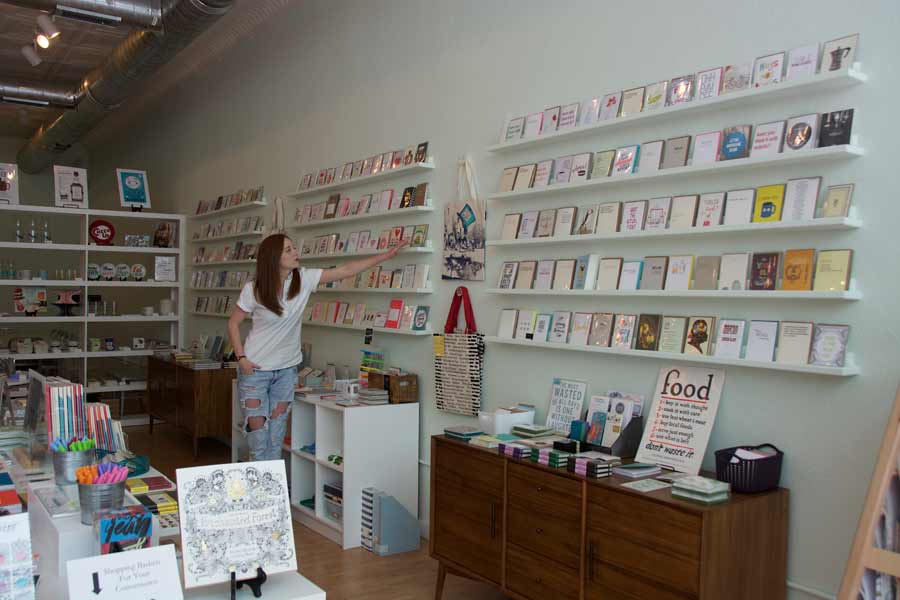 4.30pm – Shay Awosiyan
At just the young age of 14, Shay Awosiyan, moved from Nigeria to Broken Arrow, Oklahoma, with his single mother.
Shay is a student at the University of Oklahoma (OU) and faces multiple obstacles each day that most students at OU don't face.
"Americans' ignorance – no offence to Americans – but they think if you don't speak proper English they think you're a dumb ass. That's what Americans think, you don't speak proper English then you are most likely not as smart as them. So they tell you to speak to you slower, they treat you differently. But it's all good, it's what Americans are," said Shay.
He said he still deals with it everyday, but now he doesn't let others' comments get to him. After years of hearing criticism of his strong Nigerian accent, he decided to put it all behind him, move forward and shy away from the negativity.
"I got tired of defending myself and having to prove myself. So I think I decided to be me," said Shay. 
He continues to be strong and work hard, but he admitted to dealing with hardship.
"America is not as dangerous [as Nigeria]. But mentally, America will drain you and break you down. Physically, I'm all good, but mentally it's just … it's not because I'm weak."
After attending OU for almost four years, Shay is only a few months away from graduating and sees it as an accomplishment for his mother as much as himself.
Although Shay only met his father once, he doesn't believe he would be any different if he would have had his father in his life. He credits his achievements to his mother and thanks her for playing both roles in his life. To him, "blood doesn't mean you are family".
He plans to continue living his life the way he has been, and accomplishing his number one goal: "Money is good, being rich, being famous is good. All this flashy stuff, driving a nice car, having a nice house, it's all nice but when it comes down to it, it's just make my mom proud. That's all I want."
This work is licensed under the Creative Commons Attribution-ShareAlike 4.0 International Licence.