How decades of friendship carried on across generations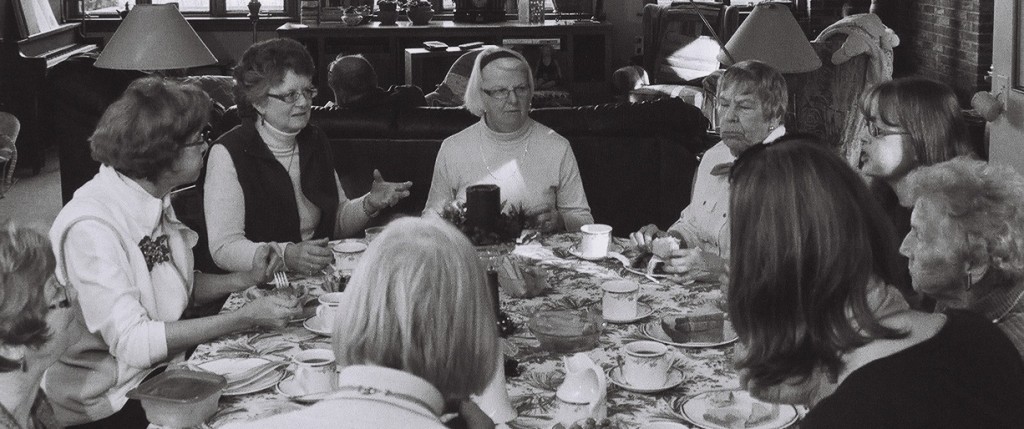 THE sandwiches are all different, in their small plastic bags or store packaging. From the counter overlooking the decorated table watch three pots of tea warming under bright cosies. The cups are filled constantly as dishes of sliced celery and carrot, pickles and olives pass around amidst a constant chatter and bursts of laughter.
Photos of children and grandchildren are handed around the long oval table to exclamations of "sweet" and "gorgeous" and the ladies settle down to lunch.
As the meal begins, Mary Ann Bibby recounts a story she heard on the CBC radio programme, As It Happens1, about a 550-pound bear found hiding in a basement in Hopatcong, New Jersey, last December2.
"Isn't that incredible? Isn't that unreal? I thought that was good enough to bring to Lunch Bunch today," says the 65-year-old.
"Well, that's the second bear story," says Jane Madsen, 69, referring to reports of a small black bear on the back of a dumpster truck in downtown Vancouver days earlier3.
This table is one of the area's most stable communities, even if it has lost all its original members since first meeting on a Tuesday in 1984.
Most of its starting members had all graduated together from Saint John High School4 in the Canadian province of New Brunswick in 1932, and remained friends throughout the subsequent decades. At least two met on their first day of school, and knew each other for almost 90 years.
Nancy Davies, 59, started attending Lunch Bunch when her mother-in-law, Fran – one of those two childhood friends – lost her husband, Jack, and needed someone to drive her to the regular gatherings.
"I was a care giver," Nancy says. "And Ruth very kindly said, 'Stay – bring a sandwich'. So I did. And I've been coming ever since. And then even when Fran passed away, Ruth called and said she would like me to continue."
Founder member and "boss" Ruth Brown, who passed away in 2008, was a Likely, a name that still continues in the group in the form of Barb Likely, 96, and Babs Likely, 93, connected through marriage. Ruth was also first cousin of David Likely Johnson, father to Elma Johnson-McKay, another member of the second generation Lunch Bunch.
The connections were key to Ruth's invitations to new members. "I kind of got to come for two reasons I think," says Elma, 61. "Because I was dad's child that lived here and took care of dad because he was blind. And I like history and I like to read and when Ruth realised that I liked books as much as she liked books I was in like Flynn, so they say. And so I've been coming ever since.
"Once, I didn't come on a Tuesday because I had some kind of appointment and I always remember what Ruth said: 'Why? Why would you ever schedule anything on a Lunch Bunch day?' So from then on, I tried never to miss, although occasionally I do."
Jane chips in on her mother Ruth: "She used to get so mad at Barb Likely because in the winter Barb Likely went to Bible study on Lunch Bunch day and my mother was an atheist."
Mary Ann came along when she was visiting from her home in Edmonton, Alberta, and brought her mum, Mary Warwick, who lived near another member of the Likely clan.
Mary Ann says: "It got so when I was coming home I would look at the calendar and buy my airline tickets around when I would arrive at like 10 o'clock in the morning before Lunch Bunch at 12. I had to be here for Lunch Bunch."
Did Ruth only invite people she liked? Jane says it was not completely selfish – Ruth thought about Shirley James, now 84, being alone in her house and about friends who could not get about much without help.
"But she was also pretty much a megalomaniac," jokes Jane. "She wanted people to come to her. She didn't very often go to other people."
But the idea of Lunch Bunch is not local. According to Jane, Ruth was visiting another daughter Rachel in Liverpool, England, and was invited to a lady's home where a group of women met regularly for lunch. The hostess did not work, but her friends did and would bring their sandwiches at noon and spend their lunch hour together.
From the opposite end of the table, Carol Sutton explains her connection to the group – via Ruth, who was editing a book on the history of the area written by Carol's daughter, Susanne5.
Carol says: "The original group were the group of ladies that Ruth graduated with in 1932 from Saint John High School. And I remember when she asked me, I said, 'Ruth? Me? I wasn't even BORN in 1932.'
"I can remember some of those women were just so proper and I just liked to act out. One time I was teasing your mother [Ruth] and here I was a young whippersnipper [sic] and your mother, an elderly senior, and some of these women just looked at me. And Marion [Barker] said, 'Carol, that's an awful thing to say to Ruth.' And I said, 'Ach, Marion, she loves it.' And she DID. She loved being bantered like that. But these women, they were proper ladies."
The ladies all bring their own sandwiches, with the tea and dessert provided by the hostess – originally only Ruth, but later expanded to some of the younger members who had large enough dining tables.
Even after her death, Ruth is still in some ways the lynchpin of the group. Seven of the original members have died in the past decade.
"I think Lunch Bunch continues because it is a way to remember Ruth," says Carol. "She was such a fun and interesting person. I just loved Ruth. I'm always mindful of Ruth at each and every Lunch Bunch gathering."
Grand Bay-Westfield is an amalgamation from 1998 of the smaller communities along the western bank of the St John River, with a population today of little more than 5000 residents, spread across nearly 60sqkm of land.
The lunch bunch idea fits perfectly with an area not only of closely related families, but also of quiet suburbia.
Direct arterial links pull traffic from Highway 7 down to the main Nerepis Road, both running parallel to the river and all flowing north from the city of Saint John to the province's capital, Fredericton. New roads and homes hint at a district slowly evolving from its roots as being largely holiday cottages for city residents. Visiting children, commuting on trains that have long ago ceased to toot their horns at the homes, grew up together, swimming, skating or fishing on the river. Close bonds and marriages were part of the evolution of the town of Grand Bay and the village of Westfield.
Original Lunch Bunch member Isabel Scovil, for example, grew up in Saint John's Seely Street, adjacent to Gooderich Street6 which was home to other eventual Lunch Bunch members. She used to play piano duets with Ruth.
Jeanie Lambert was a schoolfriend of Ruth's, while Irmon Faye Duschenes moved to the area in the 1950s and taught art and music in Westfield with Ruth. Barb Likely's husband, Bob, was Ruth's first cousin, and Babs married another first cousin, Joe.
Shirley James, 84, who in her youth was a pilot and flew a De Havilland Tiger Moth biplane, is another newer member with longstanding connections to the others in the group – her father became the "ice man" for the summer homes, and went on to grow squashes and potatoes in Ruth's family's back field.
Phyllis Durrant, 93, another current Lunch Bunch member, grew up as a neighbour of Ruth on Gooderich Street, and dated the man Ruth later went on to marry, Bob Brown.
The connections run deep between past members and have carried on to those still meeting every Tuesday.
By the time Ruth brought the Lunch Bunch idea back from England, many of her friends were widowed or lived alone, and unless you had a car, you had no way to get to the facilities and activities in Saint John.
Most of the members brought together were either from the high school class of 1932, or Mount Alison University7 class of 1936.
Before the lunch begins, Jane tells me: "At that time, mum had her own mother, and her ageing Aunt Jane living with her, and I think they all needed something to look forward to a couple of times each month. So the incentive for the group was probably as much a selfish one on mum's part as an altruistic one."
The hostess – usually Ruth – provided the pickles, olives, carrot and celery sticks and dessert on a table set with her best china and silver. It was "an event à la the 1930s/1940s" says Jane.
"And of course mum had her lovely garden as a backdrop, and that was something all the ladies really appreciated. A lot of them lived in city, without the gardening opportunities that we had here in Westfield.
"Those with cars drove those who had no method of transportation. Perhaps once a year or so, someone else would offer to host, or the group would go on an outing to a restaurant somewhere on the coast of the Bay of Fundy."
Even as host for many of the Lunch Bunch gatherings now, overlooked by the portrait of her mother, Jane was a reluctant member initially. When she moved back to New Brunswick after a number of years living abroad, Jane felt she was being "coerced" and avoided the group on purpose.
But when she retired 11 years ago, she started to find some meaningful female friends and the group has become a source of strength.
"Now that I have them, they are very important to me," she says. "The group is a good way to keep up on the goings-on in the neighbourhood, political as well as social. We can lend a hand if we learn that friends or neighbours are sick or need help, we can talk up issues from the town on which we feel strongly."
Over lunch, Elma is more blunt and joking about how the group has continued. With a new generation of women – and even the generation beyond that with Jane's 40-year-old daughter Allison Calder who lives in
Ruth's old home down the driveway – the Lunch Bunch will continue every other Tuesday.
"The bottom line is none of us work," says Elma. "Well, Alison will – she's on maternity leave. So if it was a toss up between Lunch Bunch every second Tuesday or get a 9 to 5 job, I choose Lunch Bunch. I'm not getting a job if I don't have to."
The group erupts into laughter, not for the first or last time during the two-hour lunch. They turn to reading AA Milne's King John's Christmas, an annual tradition carried over from Ruth's days, chiming in on the refrain, "big, red, india-rubber ball"8.
Others will eventually join the Lunch Bunch table, though the women acknowledge it is a reality that will sadly come as members pass away.
"It's nice to have a full table," says Elma, who then, with perfect comedic timing, describes those who attend Lunch Bunch but don't host as "freeloaders". Again, the table bursts into laughter over the clinking and refilling of tea cups, a mince pie ready to be brought out for dessert.
A few weeks after this pre-Christmas Lunch Bunch gathering, Nancy emails to explain what pulls this micro community together.
"It was as it is now – wanting to catch up on the goings on of each person," she writes. "We are all really interested in each others' lives – past, present and future. We don't see each other socially other than the Lunch Bunch but we are now friends, and look forward to every second Tuesday.
"It's a time to sit back, relax and enjoy the noise."
Disclaimer: Reporter Tristan Stewart-Robertson's grandfather was Fran (Stewart) Davies' brother, and he holidayed as a child in the back yard of Bill and Mary Warwick.