Candidates vying for presidential nominations in the United States use almost 300 trackers between their 23 websites.
Louisiana Governor Bobby Jindal eclipses all others with up to 52 pieces of code loading from his campaign site, the most of 163 world political party and candidate websites surveyed. His official website as governor has only one tracker, which can be facilitated by cookies and other coding.
Fellow Republicans Rick Santorum and Ben Carson have 23 and 21 respectively while Scott Walker has 20 trackers compared to Democrats Bernie Sanders with 19 and Hillary Clinton's 14. Jeb Bush, brother of former president George W Bush, uses 13 trackers, Marco Rubio has four and Donald Trump has just two. Overall the Republican National Committee carries 18 pieces of code compared to four for the Democratic National Committee. The Green Party has five and one of the main websites affiliated with the Tea Party, the influential conservative wing of the Republicans, has 20.
Tomorrow examined the campaign websites across the officially declared candidates as well as 28 of the biggest Super PACs (political action committees), most backing particular politicians.
Many of the sites showed significant variation in the number of trackers displayed, through plug-in Ghostery. Bobby Jindal's site sometimes had as few as nine and a maximum of 52.
Tomorrow has reached out to the campaign for comment. Their privacy policy states:
"We use these technologies to learn how our site is used, save your preferences and improve the performance and offerings of our Website. These technologies do not collect Personal Information, as they do not include your name or contact information. We may share information collected via these technologies to improve our offerings, to advance our mission, or for other purposes."1
Ian Koski, adjunct professor at George Washington University's graduate school of political management teaching digital strategy,2 said the digital efforts from campaigns will continue to grow as the field narrows and resources are pooled. Technology use can vary greatly depending on the size of an electoral race, from local or congressional levels up to senatorial or presidential.
"Once you become the nominee for the party," he explained, "your opportunity to raise increases, your coordination with the actual party – the RNC or the DNC – will increase. It just becomes part of the daily routine to coordinate between the two.
"Sharing data between the campaign and the party, making sure field operatives, whether they volunteer for the party or for the campaign, are working from the same pool of data, just becomes mandatory.
"Certainly once you get into the general election you start to see an increased amount of it. But the larger campaigns, the more serious campaigns, are already investing in that kind of infrastructure now. It may not have a full 50-state strategy yet because you're just trying to win primaries, but if you are doing it right, you are building infrastructure that will make that possible later."
Mr Koski pointed to the digital and database strategies of President Barack Obama's successful re-election campaign in 2012, known as Project Narwhal,3 versus Republican candidate Mitt Romney's Project Orca,4 widely considered to be a key component of his loss because it was too late being built, tested or deployed.
View the Google Spreadsheet HERE or click the icon below to download a zip file of the spreadsheet and all 314 screen grabs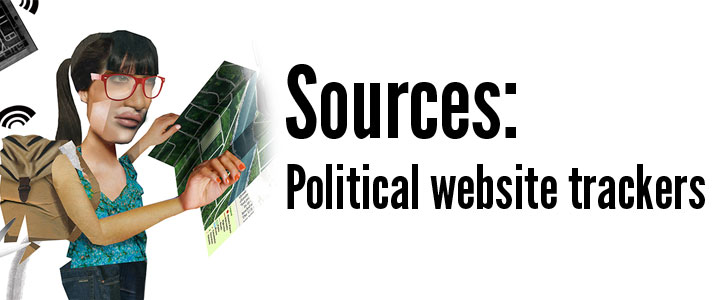 Amongst the Super PACs, the website with the most trackers is Conservative, Authentic, Responsive Leadership for You and For America (Carly for America), backing Carly Fiorina, former chief executive officer of Hewlett-Packard, with 28. Her campaign website uses 16 by comparison. And while Bobby Jindal's campaign site can carry the most code, the Super PAC supporting him has nine. Some campaigns do not yet have Super PACs or lack an obvious website presence.
Legally, Super PACs are meant to be entirely separate from political campaigns and candidates but could spend on targeted advertising based on information their websites collect or that of sites with ad spaces for sale.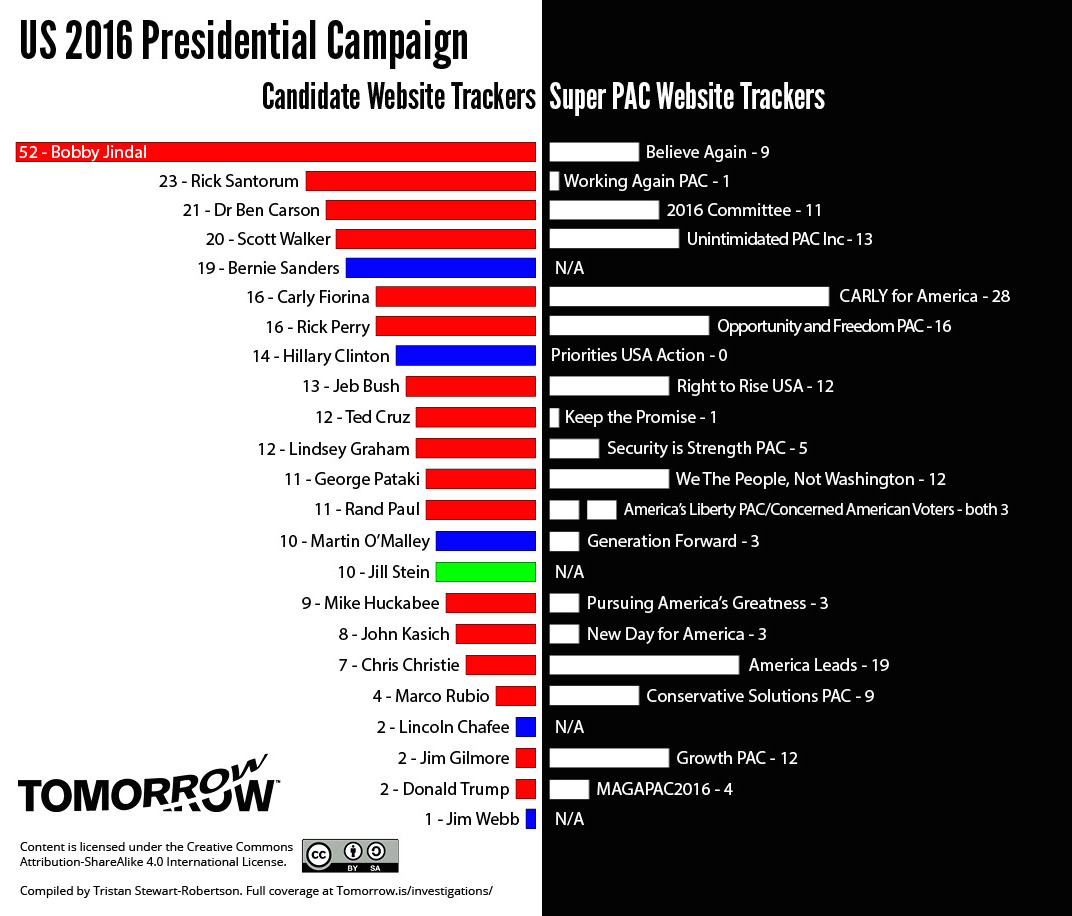 Many of the trackers used by campaign sites are for analytics or social media tie-ins. But advertising and marketing specialists such as Advertising.com, Perfect Audience and Krux Digital are also present.
Krux's website states:
"Krux's next-generation Data Management Platform (DMP) helps you zero in on and connect with your customers more efficiently, no matter which channel they are on or which device is in their hands.

Krux offers true one-to-one marketing with personalization that scales. Our solution interconnects seamlessly with your own data systems and those of your partners, enabling you to activate and control your marketing activities across any consumer touch point."5