UPDATE: After a change in government in Canada, Tomorrow asked for explanations again about the use of trackers. You can skip to the response here.
Prime Minister Stephen Harper's official government website uses more trackers than all other G8 leaders combined and more than the homepages of 30 world governments.
The site, which is currently not being updated during the national election campaign, deploys a spread of up to 14 advertising tools as well as analytics for counting the number of visitors.
It uses more trackers – which are facilitated by cookies and other coding – than a dozen US presidential candidates and dozens of party sites around the world, including the prime minister's own Conservative Party of Canada.
The site does publish a detailed privacy statement including links to block cookies, an extra step most websites don't offer.1
Tomorrow asked the Prime Minister's Office (PMO):
Why the PMO use so many and how is the data used? How long have these trackers been used?

How much money is spent annually on the professional tracking services and web development?

What data, if any, is passed to other departments, agencies or officials with the Conservative Party?
There has been no response to our queries as yet.
The main Government of Canada website loads two trackers. Branching off from that there are variations such as the National Energy Board using three and Parks Canada showing none. Canada's spy agency, CSIS, uses just one tracker, an analytics tool.
But the PMO's website shows up to 14, including trackers from US firms such as Advertising.com, Nester, Dstillery, Drawbridge, and Datalogix, part of Oracle.
Advertising.com states:
"Just like it sounds, visitor interest reports help you learn what your site's visitors are interested in. We do this by giving a cookie to everyone who visits your site. Then we follow them (discreetly, of course) to see where they go and what they do after they leave. This gives you a better sense of your users' preferences – and how to make the most of them."2
Dstillery.com describes its work as:
"By capturing a rich array of location, device and mobile data to generate brand signals, Dstillery connects physical and digital worlds, capturing the full array of signals that drive relevance for your brand.

A click. A tap. A swipe. A GPS query. They're not just actions, they're signals. When distilled by the right science and the right scientists, they can be incredibly powerful.

We collect data from the complete consumer journey — digital behaviors and real-world behaviors alike. We then extract the most important part: the patterns of shared behaviors that demonstrate a proven connection to your brand.

Those patterns are our secret ingredient, made just for you. For any two brands, the essential customer behaviors are distinct, even brands that offer similar products and services.

We use these patterns to distill your purest possible audience, the people who are scientifically proven likely to engage with your brand."3
Drawbridge's website describes its mission as:
"When we deliver the right message to the right person on the right device at the exact right moment, we're making a strong connection between brands and people."4
The PMO's website states it does not gather specific personal information and "digital markers" do not allow employees to identify individuals.
It adds that Google Analytics is used to "track visitor behaviour information in an anonymous form". It insists:
"No personal identifying information is recorded or provided to Google. This anonymous information is then used to evaluate visitors' use of the website and to compile statistical reports on website activity. The aggregate data and statistical reports are only used to help us make our site more useful to visitors and are only made available to Web managers and other designated staff who require this information to perform their duties."
View the Google Spreadsheet HERE or click the icon below to download a zip file of the spreadsheet and all 314 screen grabs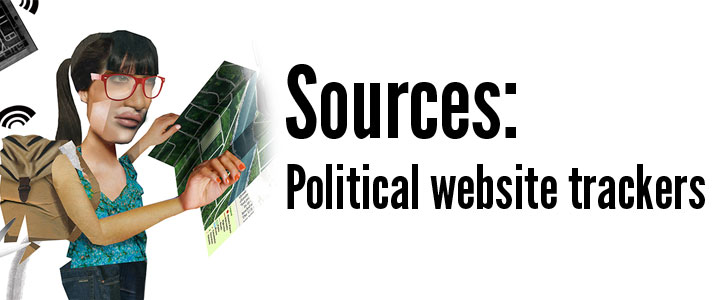 Across the five main political parties, the Green Party of Canada has the most trackers with 22, more than the other four combined, with 12 for the New Democratic Party (NDP), nine for the Liberal Party of Canada, three for the governing Conservatives and two for the Bloc Quebecois.
Former chief electoral officer of Canada Jean-Pierre Kingsley said in reaction to the use of trackers on government pages: "No political party should have access to what people go visit on government sites – that is a no-no. The fact that a particular political party has power, anything that has the prime ministership, anything that is done on that website, governmental, is verboten to a political party.
"If it's a government website, people go to it for government purposes. They don't go to it for political purposes. If they go to a particular political party, they're going to it for political purposes, pro or non, I don't care. Otherwise the governing party always has an edge. It's like when people send petitions to the government, those petitions should not be utilised by the political party in power.
"And this is something that has been done and that is not correct. When people petition a government, they're not petitioning a political party. But a very important distinction to be made here in terms of the public accessing these things and the use to which it can be put."
He added: "If eventually they get to know me, Jean-Pierre Kingsley's doing this as opposed to this address, then that'll be crossing the boundary. Because that's my personal information. I can go see anything I want, it should not be traceable to me, as a person, as an individual, a named person."
Tomorrow reached out to the Green Party of Canada for comment.
JANUARY 28 UPDATE:
The website of the prime minister of Canada has been adding trackers as each new leader takes over the office, Tomorrow can report.
No response was ever received from the prime minister's office (PMO) under the Conservative Party of Canada's Stephen Harper. But after the election in October of Justin Trudeau of the Liberal Party, Tomorrow asked again why so many trackers were used. The site continued to show 15 trackers, though some differ from previous ones.
The response, after being passed to the Privy Council Office (PCO), referred to extensive sections of the privacy notices on the PMO website.
Raymond Rivet, director of corporate and media affairs with the PCO, also told Tomorrow by email:
"Standard Internet information has been automatically collected since the launch of the PM website during the Chrétien era. This is a passive and leaves no cookies and runs no code on the browser, it is a record of the resources requested by browser for every single page loaded. We keep these for 18 months only.
"Social media widgets were introduced in 2013 which may issue a separate cookie.
"Nettracker has been used for weblog analysis since the launch of the PM Paul Martin site.  Google Analytics was introduced to the pm.gc.ca in 2010. With Google Analytics we anonymize them by removing the last portion of the IP address."
Tomorrow asked again why the other government sites only use one tracker, while the PMO site uses more than a dozen.
Mr Rivet added: "At the direction of the former PMO, PCO implemented a number of tools and solutions on the former PM website to analyze the sharing of content and optimize the user experience.  We are not able to comment on the use of analytics or trackers by other government departments for their respective websites.
"PCO does not pay for any of the services listed on the screen grab referenced below.
"One of the functions of PCO's Information Technology group is to provide technical support for the PM website. The employees working within this group are non-partisan public servants that do not change when there is a change of government."
This work is licensed under the Creative Commons Attribution-ShareAlike 4.0 International Licence.